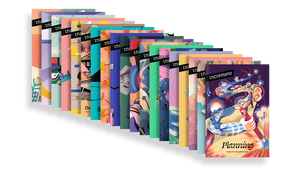 The Complete Increment Bundle
This bundle includes all 19 issues of Increment as a limited-edition set.
Collection includes

Issue 1: On-call

Issue 2: Cloud

Issue 3: Development

Issue 4: Energy & Environment

Issue 5: Programming Languages

Issue 6: Documentation (includes a pull-out poster)

Issue 7: Security

Issue 8: Internationalization

Issue 9: Open Source

Issue 10: Testing

Issue 11: Teams (includes "A Guide to Distributed Teams")

Issue 12: Software Architecture

Issue 13: Frontend

Issue 14: APIs

Issue 15: Remote

Issue 16: Reliability

Issue 17: Containers

Issue 18: Mobile

Issue 19: Planning
Increment
is printed at Hemlock Printers in Burnaby, BC, Canada. The paper
Increment
is printed on is FSC® certified by NEPCon, a partner of the Rainforest Alliance. Production of this magazine is 100% carbon neutral, via offsetting through Hemlock's ZERO Carbon Neutral Printing Program.